Quake strikes northeast India; toll reaches 5, nearly 100 injured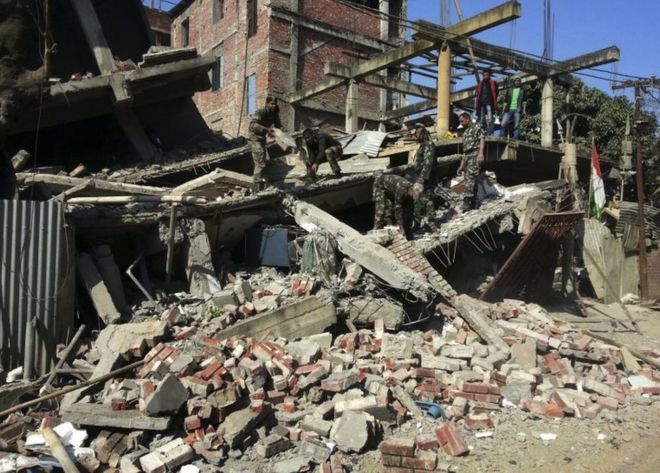 A 6.7 magnitude earthquake hit the country's remote northeast region before dawn on Monday, killing at least five people, injuring 100 others and causing damage to several buildings. Tremors were also felt across the belt, including in the bordering regions of Myanmar, Bangladesh and Tibet.
There were reports of damage to several buildings in Imphal, the capital of Manipur. The tremor left large cracks in several walls and a portion of one building collapsed, police said.
Three persons were killed in the building collapse. The Manipur administration began rescue operations in the area with the help of the Indian Army and paramilitary forces.
"Five people are confirmed dead," Anurag Gupta of the National Disaster Management Authority told a news agency.
Several reports said there were power failures in several areas hit by the earthquake. A newly constructed six-storey building also collapsed in Imphal.
In West Bengal, a few persons sustained injuries and three were admitted to hospital in the North Bengal town of Siliguri. Of the three, one had an injury to the nose, one to the head and the third suffered trauma.
Tremors were felt at 4:35 am, but there was no widespread panic as most were deep in sleep.
Across the border in Bangladesh, one man reportedly died of a heart attack following the quake.
Home minister Rajnath Singh who was in Guwahati on Sunday night as part of his two-day trip to Assam, also felt the quake. The minister briefed Prime Minister Narendra Modi over phone about the situation to discuss rescue and relief operations.
Two National Disaster Response Force (NDRF) teams of 90 personnel each have been instructed to rush to Imphal from Guwahati, the home ministry informed. Two other disaster response teams were being sent to Manipur.
A home ministry spokesperson also said that the National Crisis Management Committee, headed by the cabinet secretary, is holding a meeting to review the situation.
The meteorological department said the epicentre of the quake was in Tamenglong region of Manipur. It struck at a depth of 17km in the India-Myanmar border region. The US Geographical Survey (USGC) said the epicenter was 29 kilometeres west-northwest from Imphal.